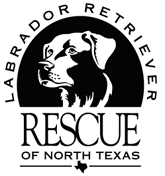 Labrador Retriever Rescue
of North Texas
Our Featured Lab
| | | |
| --- | --- | --- |
| | Labrador Retriever Rescue of North Texas | |
Website developed and maintained by Website to the Rescue
Adopting a Labrador Retriever from Labrador Retriever Rescue of North Texas can be one of the most fulfilling decisions of your life, but there are many factors that must be considered first. Labrador Retrievers are a very popular breed because they are so loyal, friendly, and fun. But you must consider all of traits of Labrador Retrievers to make sure you are ready:

1. Labrador Retrievers are very active dogs: Labs require much attention and exercise. This means that you must dedicate time out of your busy schedule every day to your dog and you must have a fenced-in yard where your Lab can run and play. If you do not dedicate a large amount of your time to your Lab's needs both you and your dog will be unhappy. Without the human contact they crave Labs will get bored and will use their abundant energy in a destructive way.

2. Labrador Retrievers, and every dog for that matter, require training: ideally, Labrador Retrievers should spend most of their time inside the home where they can get the human contact they crave. If the dog is kept outside most of the day they will seem and feel like they aren't a member of the family. At Labrador Retriever Rescue of North Texas we want to find homes for our dogs that will make them part of the family. To train the dog to live indoors we recommend the use of a crate. A crate is a portable kennel that serves as a substitute "den" to contain the dog. Read more about crate-training here.

3. Your Dog Needs You: a dog will require professional veterinary care and a regular heartworm preventative. We require that our adopters administer heartworm preventative to their dogs and obtain regular care from a veterinarian.
Think you want to adopt a lab?
Basic LRRNT Adopter Requirements:
•
will keep dog as an "inside dog"

•
will be willing to crate the dog indoors, especially for the first month

•
will have a fenced yard

•
will not leave the dog alone for long periods of time on a regular basis

•
will be willing to take dog to basic obedience classes and provide regular veterinary care

•
lives in the DFW metropolitan area and any community that is within a comfortable one hour drive

An Adoption Fee of $250 is also required to help support our operation. If you believe you can fullfill the commitments above you can apply to adopt a Labrador Retriever on-line by clicking here. Every applicant will be reviewed by the experts at Labrador Retriever Rescue of North Texas before an adoption is approved.
CLICK HERE TO MEET OUR AVAILABLE LABS

Adopt a Labrador ...
Retrieve a Friend